Nicholas's Story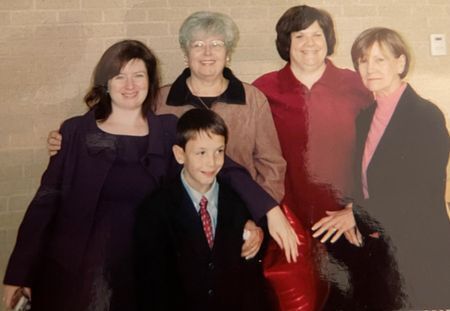 Nicholas was born 12 weeks early and was not expected to survive the night.  He spent the first two months of his life in a neonatal unit.  Miraculously, he pulled through, but this would be the first of many challenges to come. 
At just two and half years old, Child Protective Services removed Nicholas and several of his biological siblings from the care of his mother due to neglect and an unsafe environment.
While most toddlers were learning to walk and talk, supported by loving families, Nicholas was jumping between foster homes with be belongings. He felt alone and unloved. 
At Abbott House, we wrapped our arms around Nicholas, protecting him and providing him with a safe, nurturing atmosphere.  He was surrounded by compassionate caregivers like his caseworker, Peaches, who was instrumental in coordinating critical services and supportive placement - and always went the distance to make sessions fun and uplifting for Nicholas.  Our team even connected him with a special school to address a minor speech impediment. 
This would eventually change the course of his life. 
His teacher, a speech therapist named Carol, developed a special connection with Nicholas and began coordinating visits to bring him care packages.  Carol, supported by Abbott House, took on the role of mentor, and soon Nicholas began looking forward to her smiling face and warm hugs.  Even at a young age, while he could not express himself in words, he felt loved. 
One of the earliest memories Nicholas could put into words was the time Carol brought him a holiday gift while he was living in a group home.  "I remember thinking that she was the first person outside of the staff to give me a Christmas present," said Nicholas.  "It gave me a sense of what it felt like to have a real family." The feeling was mutual. 
When Carol made the courageous decision to open her heart and home to Nicholas, Abbott House provided her with hands-on foster-parent training. Just shy of his 5th birthday, Nicholas went to live with Carol permanently as a foster child.  Abbott House then took on the role of supporting the family by navigating home visits and coordinating clinical appointments-ensuring that Nicholas's every need was met. 
When it was eventually determined that a reunion with Nicholas's biological mother would not be possible, Carol began a three-year journey to adopt Nicholas. Thanks to Abbott House case planners, counselors, clinicians, and foster-care specialists, Nicholas was legally adopted on National Adoption Day at age eight and a half.
20 years later, he is a successful teaching assistant and still part of the Abbott House family as a volunteer, mentor, and ambassador committed to making sure no child ever feels alone.
To mark his journey, Nicholas has a tattoo of a locket to symbolize his heart. Carol has a tattoo of the key that opens it. This spirit captures Abbott House's guiding belief that everyone deserves the chance to unlock their potential. Potential for love; potential for independence; potential for a better and brighter future.
Today I invite you to be the key that unlocks someone's potential by making a year-end gift to Abbott House.
Nicholas's journey is just one story of hope. Last year alone, our dedicated team of 500 case planners, social workers, childcare workers, direct support staff, and other essential workers provided crisis intervention and support to nearly 3,000 individuals.
Whether we are working with foster, biological, or adoptive families, welcoming unaccompanied minors seeking refuge, or supporting individuals with or without developmental disabilities, our life's work at Abbott House will always be about creating the most healthy, secure environment for every person in care.
At a time when so many organizations are asking you to give, I ask you to please consider Abbott House. Together, let's create a world where families are whole, children feel loved, and all individuals have a chance to unlock the door to a promising future full of hope.