Jenny's Story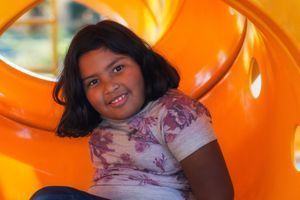 Jenny is a typical seven-year-old girl in many ways. She loves unicorns, puppies, and waterparks. Her favorite foods are French fries and chicken nuggets. She likes to draw and adores her Mom. However, Jenny is not a typical seven-year-old, and the dynamics of her family life are anything but normal.
At a very young age, Jenny suffered a brain aneurysm. Emergency surgery saved her life, but she was left with permanent damage and limited use of her right side. Occupational therapy and specialized medical care are critical to Jenny's health and well-being, but because of her complex needs, she and her mom must travel more than 90 minutes several times a month to appointments with specialists in Westchester County.
The family was referred to Abbott House from Orange County DSS when Jenny began missing school, falling behind in homework and attempts to resolve the issues with Jenny's mom were unsuccessful. Despite the school's recommendation that she be fitted for leg braces, she was showing up to school without them. These incidences prompted school administration to make repeated calls to CPS, concerned for her well-being.
After intake and assessment at Abbott House, Case Manager Natasha soon discovered that Jenny's case was not a situation of neglect. In fact, it was just the opposite.
Mom, a divorced, full-time caregiver to both Jenny and her siblings, was unemployed due to her own disability. Her love for her children was a driving force in her life, but she struggled with the enormous responsibility of coordinating Jenny's care and maintaining a stable home for her children. 
However, something else was compounding this stress and anxiety. Jenny's mom was struggling to cover up the fact that she could not read. It was isolating and even terrifying at times. When COVID-19 hit, Mom became even more overwhelmed with paperwork, login instructions and the challenges of managing the digital classroom.
Natasha immediately got to work helping the family get back on track by building trust through counseling sessions, setting up telehealth appointments, making mental health connections and finding resources for Mom to participate in reading classes through Catholic Charities.
Natasha also helped bridge the communication gap between the school administrators and Mom, ensuring that everyone was on the same page about Jenny's doctor appointments and special needs. Often, she would meet the family at Popeye's for a check-in session, and as conversations became more open and engaging, Natasha became a trusted advisor, and because of that relationship, Abbott House had a better understanding of how to address the family's unique and individual needs.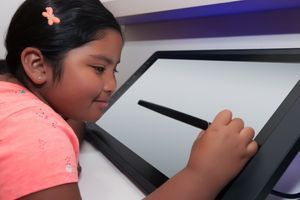 This is the story of one family at Abbott House. There are hundreds more, and what we do for them now can change the course of their lives in ways we cannot even begin to imagine.  Your generous spirit and support sustain us in this life-changing work. Please, invest in families like Jenny's. Your gift will make the difference.
---